APE Technology C o., Ltd.'s SCARA robots ST40 and ST60 are developed independently by experts of 10 years of practical experience in use. ST robots are available in arm reaches of 400mm or 600mm and can be used in assembly, loading/unloading, order picking, packaging, and dispensing applications. Our SCARA robots are ideally suited for applications and industries which require high precision assembly of small components.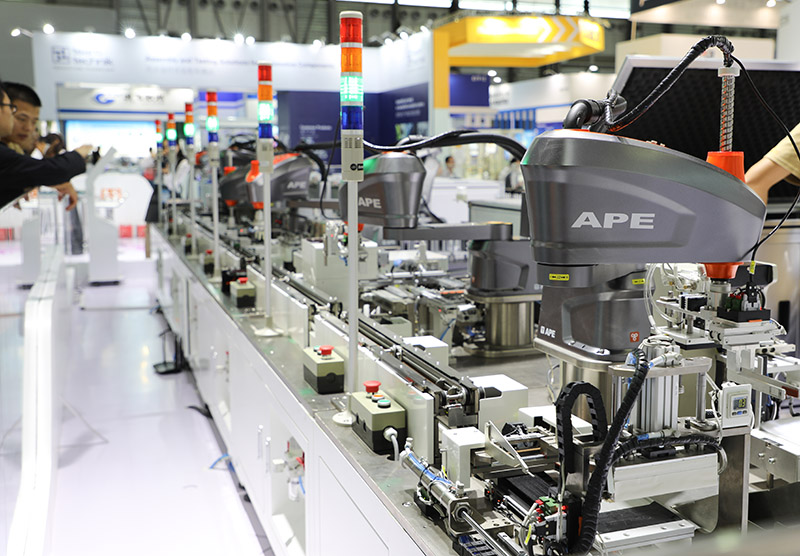 ST40 and ST60's precision reach +/- 0.01mm and +/- 0.02mm , that is similar to one quarter to one eighth of the width for human hair. Their maximum payloads reach 3kg and 6kg. ST40 and ST60 carry out standard cycle time of 0.55 s and 0.47s by advanced product design and manufacturing process. APE produced ST40/ST60 with difficult high precision aluminum alloy and heat treatment process, and design of motor postposition to achieve ultrathin arm of 3mm and high rigidity compact structure. Compare to other products in the same class, ST40/ST60 are less consumption and better performance. The energy savings could reach more than 30%.
ST40/ST60 has beautiful and compact appearance with easy maintenance. The body has no screw in streamline modeling. The special horizontal non-vertical raised top with outgoing line could reduce the enveloping space of the robot and save the top space utility and be convenient for the system layout and use of customers.
Besides the leading models of ST40 and ST60, customers could also choose arm length ranging from 300mm, 500mm and 700mm, etc. Other full customizations such as z axis are available too.
APE also provides one stop automation solution service. Our application team has 10 years of non-standard automation experience. We plan the best solutions for your production line and response fast and professionally to save our clients' development time. Customer's need is our first priority. ST40/ ST60 will make official debut at booth E7-D16, Shanghai International Assembly & handling Technology Exhibition (AHTE 2017) in 9/5-9/8. Together with APE's self-invented motion control software eMotion and other products.
Related Topics: