Products
Horizontal multi-joint SCARA robot ST60 x 6
ALLY AGV + vertical multi-joint six-axis robot SV45
Motion Control Software eMotion
Machine Vision Software eVision
1
Case description
The Film for the APE Smart Factory Paradigm, with the terminal block production line as the demo platform, shows the concept of unmanned factory and achieves the highest ideal of freeing labor.
The whole production line enables automatic assembly, loading, self-service order placement and intuitive display of production status and builds an unmanned-factory atmosphere in which no operator is involved in production and management is convenient and efficient. Six horizontal multi-joint SCARA robot ST60, and one vertical multi-joint six-axis robot SV45 and AGV are used in the experience area.
APE Tech's in-house Machine Vision Software eVision and Motion Control Software eMotion can control actions of each workstations. This smart factory concept can be also used in the assembly manufacturing concept for multiple products such as electronic car parts, 3C, etc.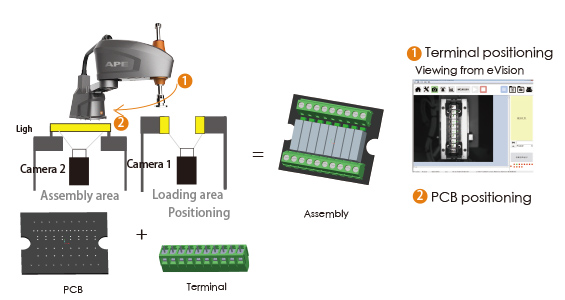 2
How does it work?